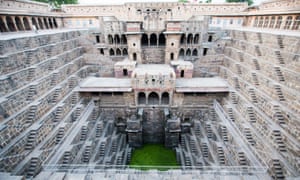 India
Across large swaths of the Thar desert in western India, traditional techniques for harvesting the little amount of rain that falls has helped people survive the powerful effects of the sun for centuries.
The most beautiful of these are step wells – known as baolis in Hindi – large, stone structures built to provide water for drinking and agriculture. Baolis have existed for at least 1,000 years and were constructed in towns and alongside serais (travellers' inns), across the desert and into Delhi.
Baolis exist in all shapes and sizes and are essentially reservoirs built into the earth. Groundwater is pulled up from a circular well at the bottom and rainwater is collected from above. A set of steps – on one or more sides of the structure – lead down to the water level, which fluctuates depending on the amount of rain. More recently, electric pumps have been installed in many baolis to help retrieve the water.
"Step wells are etched into people's collective memory so deeply, they are now part of their DNA, passed on from one generation to another," says Farhad Contractor of the Sambhaav Trust, an ecological conservation group.
Today, many baolis have fallen prey to rapid urbanisation and neglect. In Delhi only around 15 survive but local groups are fighting to protect and preserve them. While 700mm of rain falls on Delhi every year, half of the city has been declared a dark zone – where the groundwater level has depleted so much that the rate of recharge is less than the rate of withdrawal – by the groundwater authority. Rainwater harvesting, therefore, is key to a secure water supply for India's second-biggest city.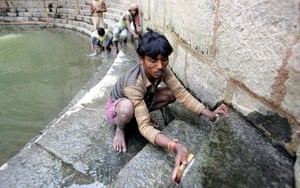 One such baoli restored by the Aga Khan Trust for Culture(AKTC) was built in the 14th century in Hazrat Nizamuddin Basti, a medieval village in Delhi named after Sufi saint, Hazrat Nizamuddin Auliya. In 2008, parts of the baoli walls collapsed due to sewage water seeping into the structure and the local residents using it as a rubbish dump. The pool was drained and the rubbish, garbage and sludge that had accumulated over the past 700 years was removed to reach the foundation of the baoli some 80 feet below ground level. While the water in the baoli is still not potable, it can be used for cleaning and agriculture.
Experts say the baoli model can be replicated anywhere in the world with similar climatic conditions and physiological features. Contractor has been invited to Morocco where he is working on a project to build baolis and smaller wells, known as beris in Hindi.
But large baolis need large catchment areas, and in Delhi space is an issue. While the majority of the physical structures of baolis are protected – some by being sited inside historic monuments – urban development in Delhi has had a greater impact on their water levels; storm drains divert rain away from baoli catchment areas.
Diwan Singh, an activist with non-profit Natural Heritage First, says that even though many baolisin Delhi are surrounded by buildings, the wells can still be recharged. "Catchment area management is the key. In the small areas of land between the baolis and buildings, rainwater harvesting pits could be built to divert rainwater away from the storm drains," he says. "Once in the pit, water will percolate through the soil and recharge the nearby baoli, allowing modern development and ancient structures to co-exist side by side."
Nivedita Khandekar
Kenya
Makueni County – just over 100 miles south of Nairobi – has one of the most inhospitable environments in the country.
The region's sandy loam soil supports little else besides the thorny, stunted shrubs that stretch for miles, interspersed only by gigantic baobab trees or some species of the hardy acacia. The only food crops cultivated here are sorghum, cassava and pigeon peas – drought-tolerant crops. With an average annual rainfall of just 600mm, meaningful agriculture is nearly impossible.
Water access is a big problem. In Kenya, 63% of the population use an improved source of drinking water and 46% live below the poverty line. Women and girls in sub-Saharan Africa spend up to four hours a day fetching water, according to the One campaign.
But things are changing for the better, thanks to an ancient water harvesting technique being used in the dry regions. Sand dams, which were invented by the Romans in 400BC, have become an important source of water for domestic and agricultural needs.
Sand dams are constructed by building a concrete barrier or wall across a seasonal river with a firm bedrock. As the river flows, sand in the water is deposited behind the wall. Over time, layers of sand build into a reservoir for water, which remains stored in the sand once the river level drops. Evaporation is virtually impossible below a metre of sand – no matter how intense the sun – and the water is clean and safe for immediate drinking as the sand acts like a filter.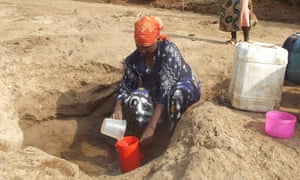 The Africa Sand Dam Foundation (ASDF) has been facilitating the construction of the dams alongside Excellent Development (ED), a UK-based NGO that has enabled the construction of 838 sand dams in rural dry lands across eight countries. The work of ED has improved access to clean water for more than 800,000 people, according to Jonny McKay, the NGO's communications manager.
Not only have the sand dams improved water security for local communities. Villagers are also coming together to form self-help groups to construct the dams with assistance from the NGOs, and to initiate agro-based economic schemes.
"We are able to practise agribusiness now that we have water available for irrigation," says Elizabeth Ndungune, the chairwoman of the Star Thange self-help women's group in Ulilinzi. Using water from the sand dam built on the nearby River Thange, the group can now grow kale, tomatoes, beans and other crops. They sell whatever they harvest and pool the proceeds, which help families pay for school fees.
While sand dams are a cheap and simple solution to some complex problems, they can fail if they are not applied in a way that meets the users' needs. "The biggest challenge is ensuring that the technology is applied to specific local conditions and people's needs, rather than simply being replicated from one place and situation to another," says McKay.
But the initiative is gaining momentum and expanding not only to other parts of the country, but to Tanzania, Chad, Zimbabwe, Mozambique and even to India.
Geoffrey Kamadi
Peru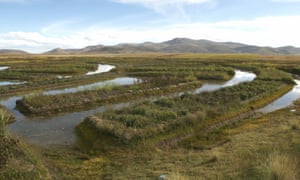 On the hardscrabble, treeless highland plain that joins Peru with Bolivia, farmers have eked out an existence for thousands of years amid bitter winters and the harsh sun, at 4,000 metres above sea level and higher.
As scientists predict climate change will make the Altiplano's weather even more inclement and unpredictable, today's farmers are reviving an ancestral system of cultivation and irrigation using what looks like an intricate piece of land sculpture.
Resembling an ornate garden maze from above, suqakollos – or waru-warus – are a patterned system of raised cropland and water-filled trenches.
Alipio Canahua, an agronomist working with the Food and Agriculture Organisation (FAO), says that the ancient agricultural system, which could date back 3,000 years, actually creates its own microclimate.
"It captures water when there are droughts and drains away water when there's too much rain, meaning that it irrigates the crops all year round," he says. "When it comes to temperature, we've measured a rise of three degrees centigrade in the immediate environment around it – this can save a significant percentage of the crops from being killed in frosts."
A suqakollo can also be a small oasis in the scorching daytime sun, which yellows even the coarse highland grass, known as ichu – the main fodder for the alpacas and llamas herded by the local Aymara people.
Canahua has been leading the resurgence of this ancient farming system with local communities, restoring old suqakollos and building new ones.
Sonia Ticona, a local indigenous Aymara leader who has been working with Canahua, says that in her village, the women work harder than the men to dig the trenches which are filled with water.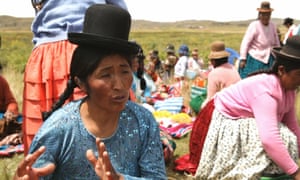 "Our great-great-grandfathers used the suqakollo system then at some point, and we don't know why, they stopped. Now we are restarting it and bringing it up to date – men and women working together."
Potatoes have been sown this season – next year it will be quinoa – in a carefully planned crop rotation, explains Canahua. While the yields are smaller than cultivating in larger fields, beating the plummeting winter temperatures, which can reach -20C, can prevent devastating crop losses.
The suqakollos project is one of several globally important agricultural heritage systems (GIAHS) funded by the Global Environment Facility (GEF), which is working with the regional governments of Cusco and Puno. Along with Peru's agricultural ministry, the FAO is promoting family farming with the GIAHS methodology.
Canahua's only frustration is that it's not possible to make the suqakollos as big as Puno's pre-hispanic people did. Archaeologists say that people have lived on the Altiplano – on the shores of the highest navigable lake, Lake Titicaca – for some 8,000 years, and traces of the ancient canals still mark the high plain. Roads and boundaries between communal lands, however, have limited the space available.
John Preissing, the FAO's representative in Peru, says the pilot project has produced more than double the normal crop yields.
"We can't isolate just the fact that we're using suqakollos but we can say that between the water management, the soil management and the fertiliser management, we are reaching double the harvest numbers."
Figures for 2013-14 indicate that suqakollo's crop yields for quinoa are 3.2 tonnes per hectare, more than double the average of 1.3 tonnes per hectare for the same crop grown on the plain.
Ancestral crops like quinoa, and its kiwicha and kaniwa varieties, could make this labour-intensive, complex farming system worthwhile; international demand for the superfoods has multiplied the price, bringing in extra income for these smallholder farmers.
Dan Collyns
This article was amended on 19 August to correct a sentence stating that women and girls in Kenya spend between six and 12 hours a day collecting water. It should have said that women and girls in sub-Saharan Africa spend up to four hours a day collecting water.
Join our community of development professionals and humanitarians. Follow@GuardianGDP on Twitter, and have your say on issues around water in development using #H2Oideas.